Elevate Ventures' startup investments at pivotal point
| Indianapolis Business Journal
July 19, 2019
After nine years of managing the state's investments in startups, the not-for-profit Elevate Ventures has had some wins, but more losses—as measured by the number of companies that paid back at least as much as they took in.
Overall, Elevate has plowed $17.6 million into 51 companies that reached the exit stage—the time a firm sells, buys out early investors, or even closes.
Through July 16, Elevate had received back more than it invested in just 19 of those companies. In total, it has recouped $20.6 million, which represents a return of 17%.
That doesn't worry Elevate's leaders, though, who say the group's mission goes beyond capturing a high return. They point to a half dozen other metrics that they say show the benefits created from their investments, including the number of jobs created and amount of private investment leveraged.
"It's a challenge because we're walking this fine line between encouraging entrepreneurism and doing our economic development mission, but we also have the mission of return," Elevate Ventures CEO Chris LaMothe said. "So, we want to make sure we're making thoughtful investments for the taxpayers."
In 2010, the Indiana Economic Development Corp. delegated management of the 21st Century Research and Technology Fund—which was designed to directly invest in startups—to Elevate Ventures. State and industry officials believed that would be a good way to provide entrepreneurs with the support and resources needed to help startups grow and be successful.
Since then, Elevate has made 508 investments totaling $91.4 million. That money has flowed into 313 companies, with 262 of those remaining in the organization's portfolio.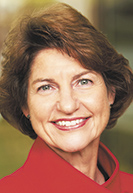 IEDC President Elaine Bedel said state officials know there's always a risk that a startup Elevate invests in on behalf of taxpayers won't survive.
"We can't say we've had successes across the board," Bedel said. "But if we don't do it, who's going to do it?"
Leaders in the tech community have raised concerns for years that Indiana is lacking venture capital dollars. In 2018, a total of $112.2 billion in venture capital was invested in U.S. startups, but only 0.22%, or $253 million, of that came to Indiana.
Elevate Ventures is a big fish in that small pond.
In 2018, Elevate participated in more than 67% of all the fundraising rounds for Indiana startups, making it the most active VC firm in the state.
And the number of positive exits realized by Elevate has been growing, albeit slowly. In 2017, Elevate had three positive exits; that increased to four in 2018, although the overall return that year was a 55% loss due to 11 negative or neutral exits.
So far this year, Elevate has already matched last year's record high of four positive exits and, despite six neutral or negative exits this year, has seen an overall return rate of 17%.
None of that data accounts for any estimated increases in the value of investments. Elevate only records positive returns when a company successfully exits, rather than counting estimated gains while a company is still in its portfolio. LaMothe said that's because value is uncertain until a company is sold.
But he expects the number of positive exits to start increasing, given that many companies in Elevate's portfolio have been operating for years, so they're more likely to be acquired.
"We're early in our return metrics," LaMothe said. "You would expect the very, very early-stage companies that we're investing in typically to begin reaping or harvesting some of those investments in the seventh through the ninth year, and we're just right there."
Moving past controversy
The state created the 21st Century Research and Technology Fund in 1999 to invest in innovation and entrepreneurship.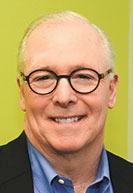 The IEDC was charged with managing the fund, which initially awarded grants that did not give the state equity in the companies.
But that arrangement changed in 2010 under then-Gov. Mitch Daniels' administration, which wanted to provide startups with more venture capital opportunities and create a stronger entrepreneurial ecosystem.
"What we found was that a lot of businesses, a lot of investors and a lot of entrepreneurs weren't excited about using state or federal money because there were so many strings attached to it," LaMothe said.
Enter Elevate Ventures, a not-for-profit founded in 2010 by Howard Bates that operates independently from state government, even though its sole purpose is acting as a venture capital firm for the IEDC to help create that support system for startups in the technology, medical, manufacturing and agriculture industries.
In 2018, the contract with Elevate cost the IEDC $4.2 million.
Shortly after the partnership formed, Elevate ran into conflict-of-interest problems.
In 2012, it invested almost $500,000 in Indianapolis-based marketing software developer Smarter Remarketer, of which Bates was CEO while still serving as chairman of Elevate.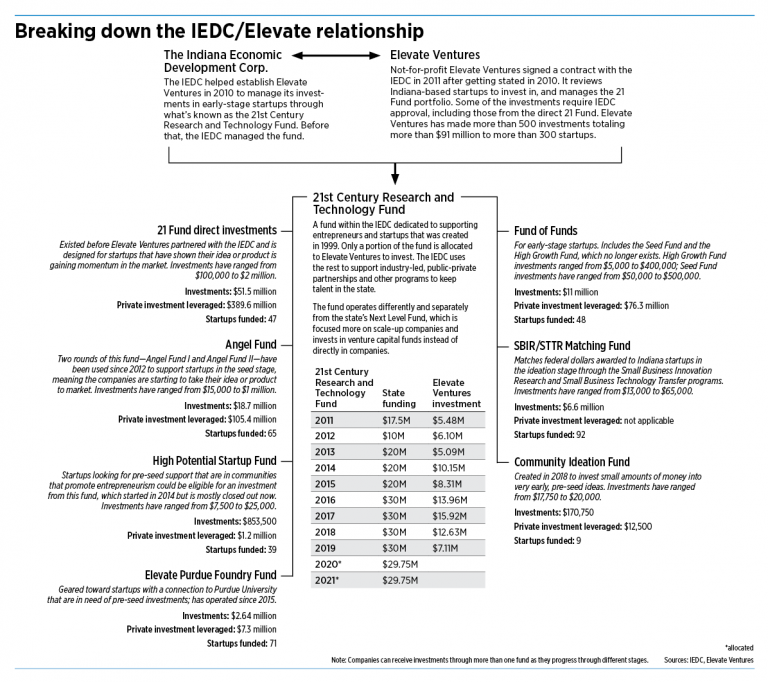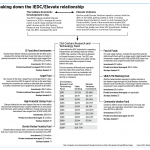 A federal audit concluded that Elevate "intentionally misused" public dollars by making the investment because then-Elevate CEO Stephen Hourigan was aware of Bates' controlling interest in the company, now known as SmarterHQ.
Hourigan and Bates both left their roles with Elevate as a result of the controversy.
Bedel said the state's relationship with Elevate now "is really good."
"None of those individuals are still active with the Elevate Ventures we're working with," Bedel said. "I think it's much different now."
LaMothe, who became CEO in 2015 after Hourigan left, said no one on staff or on Elevate's board is allowed to invest in any company the firm works with, and advisers assigned to represent Elevate on boards of startups are also not allowed to invest in those companies. Advisers are allowed to invest in other companies they are not working with on behalf of Elevate.
"We watch that very, very carefully," LaMothe said.
Elevate's contract with the IEDC expires at the end of the year, but officials say they are in the process of negotiating a new one.
What's enough?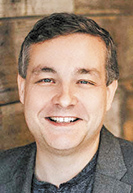 The 21st Century Research and Technology Fund includes multiple funds designed for startups at different development stages and risk levels. Those funds include the 21 Fund direct investments, Angel Fund, High Potential Startup Fund, Elevate Purdue Foundry Fund, Fund of Funds, Community Ideation Fund and a matching fund for companies that receive support through the federal Small Business Innovation Research and Small Business Technology Transfer programs.
Elevate now oversees investments made from all those funds.
The state appropriates $30 million every year to the 21st Century Fund, but only part is invested in Indiana startups. In 2018, for example, Elevate made 94 investments totaling $12.6 million.
The rest of the fund is invested in public-private partnerships, typically involving universities and industries trying to conduct research or develop a new technology.
For example, the state last year used $3 million from the 21 Fund to leverage $54 million in federal and private funds for microelectronics research at Purdue University and the University of Notre Dame.
And the amount directed toward each initiative—investing in startups versus supporting public-private partnerships—is a moving target.
Bedel said the state does not mandate the amounts each year but stays in regular contact with Elevate to make sure everyone knows current spending levels.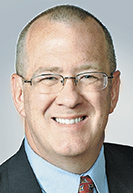 "We're not forcing them to invest in any companies," Bedel said. "We want good investments."
LaMothe said Elevate could always use more money to make investments.
"But I do know that the IEDC is very thoughtful and judicious about how they try to meet the demands that they have," he said.
Most of the $91 million Elevate has invested since 2010—$51.5 million—has come through the 21 Fund direct investment program, which is targeted at companies far enough along in development that they can show a product or service has merit in the market.
Those investments are typically Elevate's highest, ranging from $100,000 to $2 million, because they are considered less risky.
Winners and losers
Some of the companies Elevate has invested in have had high-profile accomplishments, including Fishers-based ClearObject, which has seen significant growth for years and was acquired by two out-of-state private-equity firms this year.
ClearObject CEO John McDonald said the company (originally CloudOne), would "have been dead" without Elevate's investments, which totaled $3 million from 2012 to 2016. Almost all the money came from the 21 Fund.
"It was absolutely exactly the right thing at exactly the right time," McDonald said.
But others, like Fishers-based SteadyServ Technologies LLC, haven't been so successful.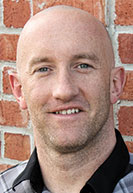 Elevate invested $1.5 million in SteadyServ, a beer-service technology firm that gained national attention with a draft-beer management and inventory system called iKeg, through its Angel Fund and 21 Fund direct investments in 2013 and 2014. But the company filed for Chapter 11 bankruptcy in February and a judge approved the company's sale in June to the biggest creditor after no other bids were made.
Michael Hicks, director of the Center for Business and Economic Research at Ball State University, said he'd be more concerned if Elevate didn't have any failures.
"If they're being that cautious," Hicks said, "then they're not needed, because banks would make those investments."
LaMothe said Elevate has a "very deliberate process" for its investment decisions.
That process starts with startups' pitch to staff and experts known as entrepreneurs in residence. Candidates then go through several rounds of vetting by various committees. For investments made through the 21 Fund direct investments program, an IEDC committee has to sign off on the proposal, too.
LaMothe estimated that, for every company approved for investment, Elevate says no to 13 or 14.
Nearly all the funds require the recipient to raise a matching amount—and oftentimes the outside investments exceed Elevate's contribution. Since 2010, outside investors have contributed $633 million to funding rounds Elevate has participated in.
Measuring success
After nine years, officials at IEDC and Elevate Ventures say the partnership and the resulting investments have been successful.
But how do they measure that? Is it the return on investment? Number of jobs created? Amount of outside investment leveraged?
All of the above.
That's because, unlike many venture capital firms, the state's goals are not all about direct returns. The IEDC has also charged Elevate with building entrepreneurism and innovation by coaching and mentoring startups.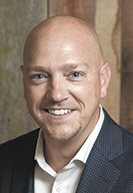 "The goal of this is to cause there to be more technology firms and research and development in Indiana," Hicks said. "The goal of this isn't for it to make money for the state in the short run."
Elevate helps startups in several ways—by hosting events throughout the state to connect entrepreneurs, stakeholders and investors; by assigning an adviser to the board of the startups it invests in; and by connecting companies with one of the organization's entrepreneurs in residence to help them navigate roadblocks.
Since 2010, the more than 300 companies Elevate has invested in employ nearly 2,500 individuals with average salaries of more than $64,000.
Startup leaders say Elevate's support has a significant impact and is unlike the money from venture capital firms.
"They're way more beneficial to have involved with your company than someone just concerned about money," McDonald said.
Plus, if a company can say Elevate Ventures backs it, that can help attract other investors.
"One of the more subtle but important things they do is, they provide confidence to other follow-on investors," McDonald said. "That kind of endorsement is really, really beneficial."
Brian Powers, founder and CEO of Indianapolis-based PactSafe, said Elevate was its first institutional investor and is still the only local one, so its programming and expertise have been especially helpful. PactSafe received nearly $500,000 from Elevate's Angel Fund from 2014 to 2018.
"Without Elevate's continued partnership, PactSafe would not be where it is today," Powers said.
Money does matter
Elevate officials are passionate about the economic development mission, but they don't deny that they want a return on investment.
In fact, both Elevate and the IEDC say they want the 21st Century fund to someday reap enough in returns to support new investments without annual appropriations from the state.
"We're not there yet," Bedel said. "But hopefully someday we will be."
The returns have fluctuated over the years, as it all depends on when a company has an exit, which can happen in several ways­—a bigger company could acquire the startup, another venture capital fund could buy out other investors like Elevate, the company leaders could buy back ownership shares, the company could go public, or it could go out of business.
In 2012, Elevate saw a 91% loss on its exits, but that flipped to a 91% gain the next year.
So, it could be a while before the fund becomes self-sustaining. LaMothe said it will first need some $100 million in returns. "Some people would say it's less than that, some people would say it's more than that."
Hicks said he doesn't think it's feasible—or smart, for that matter—to make the fund self-sustaining because that would put too much emphasis on earning profits rather than building the entrepreneurial ecosystem and innovation.
"That differs from the goal of generating commercialization of research that wants to have a home in Indiana," he said.
LaMothe said Elevate's work has had an impact to date, but he's still worried about Indiana's future.
"We're still so far behind in our entrepreneurship," he said. "Indiana has got to pivot to innovation and entrepreneurship in a big way."
Tech leaders say one way to fuel that is attracting more venture capital dollars, not necessarily by increasing appropriations to the 21st Century Fund, but rather by attracting new VC firms.
McDonald, who is part of the tech industry's trade group known as the Indiana Technology and Innovation Association, said Elevate Ventures is "one of the very few pathways" for startups to get funding, so, if they get turned down, it "could almost be the end of the road. … We continue to not have enough pathways."
But an increase in the 21st Century Fund could help, he added. "We're on rounding errors in the state budget as opposed to major funding initiatives."
Rod Reasen, CEO of Springbuk, which received $2.8 million from the 21 Fund direct investments program from 2015 to 2018, described Elevate as "a good bridge" and a "fantastic partner." But he said the state still desperately needs more funding options for investments of $5 million and above.
"But," he said, "that's not an Elevate problem."